TL;DR - Black Friday Cyber Monday Prep In Review
Congrats! You made it through BFCM (and this blog series). If you're thinking to yourself, that was… a lot, you're not alone. For context in 2021, Black Friday made merchants $8,900,000,000 in 24 hours. Where will 2022 clock in?
Regardless Black Friday Cyber Monday is a beast and proper strategy and preparation is required to execute at a high level. 
After it's all over, it's important to take a moment to celebrate the wins, debrief with your team, and reflect on how everything went. Take note of what went well, what didn't go well, and use that information to improve your strategy, campaigns, creative, product, and brand for next year.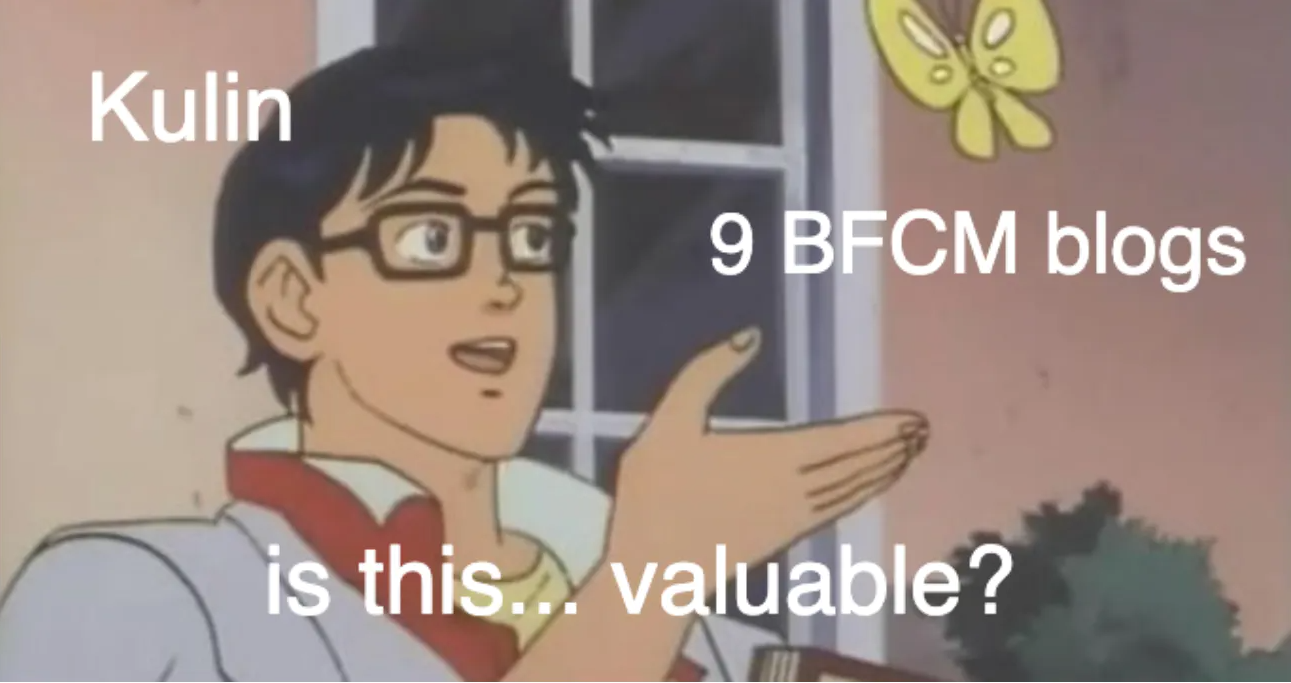 We're hoping that this was at least somewhat valuable for the time investment if you made it this far. And if you just skipped here from the start, we don't blame you one bit.
Here are the key points to take away from this whole BFCM series:
1. Start Here: BFCM Strategic Planning & Goal Setting

Key takeaways:
Take larger macro trends and first-party data from recent and last year's sales into consideration when forming your BFCM strategy and goals. 
If you need help calculating targets for the holiday season, check out our ROAS calculator.

Establish the key performance metrics you need to hit to achieve your goals, and set up the dashboards and reporting solutions you need to track them.

2. Choosing BFCM Offers & Discounts

Key takeaways:
Pick your Black Friday discounts based on your performance analytics, margins, and goals for the holiday season.
Simple and easy offers that are easy to communicate go a long way while advertising noise hits a peak during BFCM. 
If you're stuck deciding between a few different types of offers, test them ahead of time! This also helps grow your email list ahead of BFCM.

3. Setting up your Q4 campaign calendar

Key takeaways:
Create a Q4 calendar that maps out what needs to get done and when, based on the different phases of the BFCM holiday season:
Pre-Holiday: October
Pre-Black Friday: Early-to-mid November
Black Friday: Week of November 21st to 27th
Cyber Monday: November 28th to 30th (if extending your sale)
Christmas: last minute gifting & shipping cut-off deadline
4. 10 Email Marketing Strategies Your Brand Needs in Q4.

Key takeaways:
Focus on email list building leading up to November through personal quizzes, holiday guides, and VIP sign ups for early access.
Optimize your automations and campaign tactics before November by testing offers, subject lines, CTAs, content length, etc.
Pay special attention to site and cart abandonment automations, since abandoned carts and bounced sessions skyrocket during BFCM.
Give your most valuable customers extra love with special offers, deeper discounts, exclusive bundles, or even just early access to the standard sale.

5. Prepare your paid media strategy for Black Friday

Key takeaways:
Build up your retargeting audiences in October and November to convert them during BFCM.
Capitalize on more cost-effective placements like IG Reels and TikTok to build retargeting audiences ahead of time.
Build out your campaigns, ad sets, and ads (with backups!) ahead of time to make quick decisions when the sale is rolling.

6. Getting design, copy, and creative ready for BFCM

Key takeaways:
Look for creative inspiration externally and insights based on your own data when deciding what copy and creative to run for BFCM.
Organize creative requirements based on your campaign calendar, and create content in batches around those key dates.
Include copy variations and messaging that builds urgency through limited stock and limited time offers. 
Stick to 1x1 and 9x16 aspect ratios; shoot 9x16 video to capitalize on cheaper placements like TikTok or Instagram Stories and Reels before Black Friday.

7. Getting your site ready for Black Friday

Key takeaways:
Ensure your server and site loading speed isn't going to hold you back for the influx of traffic.
Prioritize CRO adjustments for key pages along the most frequent high value purchase paths. 
Test landing pages in October and early November to inform your BFCM store takeover.

8. What to do during the BFCM sale

Key takeaways:
Have a general understanding of when you'll want to push spending going into the BFCM sale, based on your campaign calendar. 
Build dashboards across all relevant platforms with the key metrics to gauge performance and make optimization decisions.
Streamline your CX tech stack while preparing and empowering your customer service team for the busiest holiday shopping season of the year.
9. How to Make the Most of the Post-BFCM Period

Key takeaways:
Turn a good Black Friday into a great one by focusing on LTV and retention after the sale.
Ask for reviews, ratings, and UGC from BFCM shoppers to build credibility and social proof. 
Make a final push for post-BFCM sales by emphasizing urgency with last minute gifting and shipping cutoff promotions.

Well, it's been a slice. We wish you all the best on your Black Friday Cyber Monday ventures. May your sales be high and churn rates low.
If you want to get in touch about working with us here at Kulin, drop us a line here or stay in touch with us by signing up for our newsletter and following us on social @WeAreKulin.